Press Contact: Bruce Granath 801-703-2052 /  [email protected]
Photos available for media use: DOWNLOAD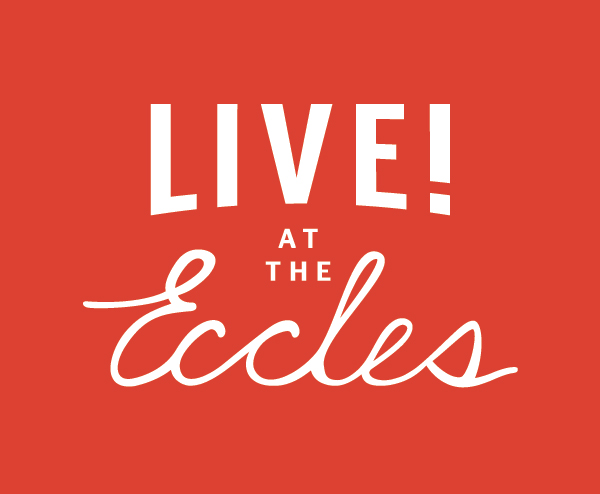 11 SHOWS ANNOUNCED FOR FALL
LIVE AT THE ECCLES
TICKETS ON SALE FRIDAY, JUNE 9 at 10AM
[EMBARGOED – APPROVED FOR COVERAGE BEGINNING FRIDAY, JUNE 2 at 10AM]
The Eccles Theater was standing room only for a raucous concert by The Head and The Heart in early November of last year.  Since that first Live at the Eccles concert, Salt Lake audiences have cheered more than 20 shows representing concerts, comedy and spoken word.  Neil deGrasse Tyson, Bill Maher and Experience Hendrix are just a few of the tours playing to capacity audiences at the George S. and Dolores Doré Eccles Theater on Main Street in downtown Salt Lake City.  The hit series wraps up a busy spring schedule with Anderson Cooper and Andy Cohen on June 10 and Ryan Adams on June 18.
"We are thrilled to announce nearly a dozen new shows for the fall season," says Chris Mautz, principal booking agent for Live at the Eccles.  "We have something for everyone and more shows to be announced very soon."
Fans can get priority access to tickets beginning Tuesday, June 6 at 10am simply by joining the email list at www.Live-at-the-Eccles.com.  Tickets go on sale to the general public Friday, June 9 at 10am at Live-at-the-Eccles.com and the Eccles Theater Box Office.
STEVE MARTIN AND MARTIN SHORT | AUGUST 27 
SEU JORGE – The Life Aquatic – A Tribute To David Bowie | SEPTEMBER 7
THE DOOBIE BROTHERS | SEPTEMBER 26
CONOR OBERST | OCTOBER 1
HUEY LEWIS & THE NEWS | OCTOBER 19
 THE SIMON & GARFUNKEL STORY | CAPITOL THEATRE | OCTOBER 24
SHAPING SOUND | OCTOBER 24
SNAP JUDGEMENT | OCTOBER 27 
GREGORY PORTER | NOVEMBER 6
WHITE RABBIT PROJECT | NOVEMBER 18
JOHN CLEESE – MONTY PYTHON & THE HOLY GRAIL | NOVEMBER 19
PLUS . . . . ALREADY ON SALE
 JJ GREY & MOFRO WITH MAGPIE SALUTE | SEPTEMBER 23
 WILD KRATTS LIVE! | SEPTEMBER 30
STEVE MARTIN & MARTIN SHORT – An Evening You Will Forget For The Rest Of Your Lives | AUGUST 27 
Steve Martin and Martin Short have been a hot ticket across the country.  The legendary comedians will be joined by the Grammy® Award winning bluegrass band Steep Canyon Rangers. Audiences can expect an evening of nonstop laughs as the duo recall their iconic careers, creative influences and most memorable encounters, uniquely presented through a blend of stand-up, musical numbers and conversations about their lives in show business in their show, "An Evening You Will Forget for the Rest of Your Life".
SEU JORGE – The Life Aquatic – A Tribute To David Bowie | SEPTEMBER 7
Anyone who saw Wes Anderson's A Life Aquatic will remember the singing sailor, Pelé dos Santos, who appeared throughout the film playing guitar and singing David Bowie songs in Portuguese.
Seu Jorge, who rose to international fame in his acclaimed role in the film, performs a special tribute to Bowie while recreating the set to the film A Life Aquatic on stage alongside screens crafted as boat sails that will be displaying images from the film.  Seu Jorge's adaptations in Portuguese of David Bowie's music underscore the breadth and depth of his compositions and have gone on to have a significant cultural impact.
"Had Seu Jorge not recorded my songs in Portuguese, I would never have heard this new level of beauty which he has imbued them with." — David Bowie
THE DOOBIE BROTHERS | SEPTEMBER 26
Born out of Northern California's chaotic, late-1960s musical stew, The Doobie Brothers' rugged, real and authentic approach to rock and roll made them biker bar stalwarts. But their self-titled debut album in '71 went beyond just leather and motorcycles, revealing even more musical layers; sweet three-part harmonies and rootsy, introspective, acoustic flavors.


The Doobie Brothers' legacy has been built upon not just hit records, but also an unrivaled commitment to musical integrity and a steadfast allegiance to their enthusiastic fan base. The bands ability to evolve in a constantly changing industry and connections to generations of listening audiences is a testament to their craft.
The touring lineup for The Doobie Brothers includes original members Patrick Simmons – Guitars/Vocals,
 and Tom Johnston – Guitars/Vocals.  Longtime member John McFee has also worked with Van Morrison, The Grateful Dead and more on Guitars, Pedal Steel, Dobro, Fiddle, Vocals.  Bill Payne of Little Feat – Keyboards.  Marc Russo of the Yellowjackets on Saxophone, Ed Toth from Verticle Horizon on Drums.   John Cowan of New Grass Revival and Sam Bush on Bass/Vocals.
CONOR OBERST | OCTOBER 1
 Conor Oberst joined his first band at the age of 13 and has been releasing music since 1993. Over the next two plus decades, he's released cassette-only recordings, split 7-inches, and a dozen albums of uncommon insight, detail, and political awareness with his band Bright Eyes, under his own name, as a member of Desaparecidos, as leader of the The Mystic Valley Band, and with the Monsters of Folk supergroup.
"I have always believed there's salvation through music and love. At least for me. It's gotten me through the worst of things. But I want it to be that way for the people who listen to it, too," explains Oberst. "I feel I always make an attempt, even when writing what is a pretty depressing number, to sew some silver lining into it. I think the secret to happiness is making yourself believe that happiness is possible. The first step in overcoming anything is to believe that you can do it. So in my songs there's always a point where something pulls you out of the hole you're in"

HUEY LEWIS & THE NEWS | OCTOBER 19
Huey Lewis and The News are truly one of America's great rock & roll bands. As they enter their 36th year together, their contagious brand of music has outlasted countless trends, and is as fresh today as ever. Formed from two rival Bay Area bands in 1979, they continue to thrill audiences worldwide, selling over 20 million albums in the process, earning them the right to mark their place on the pop history map.
These Grammy Award winners have written and performed such classic Top Ten Hits as "Heart of Rock & Roll", "Stuck With You", "I Want A New Drug", "If This Is It", "Hip To Be Square" "Do You Believe In Love" and "Workin' For A Livin". The group also wrote and performed "The Power of Love" and "Back in Time" for the hit film Back To The Future. "The Power of Love", nominated for an Academy Award, went to #1 on Billboard's singles chart, and was a smash hit worldwide.
Huey Lewis & The News incorporate a variety of musical influences including R&B and soul to create their own unique sound to the live show. Lewis also brings some bluesy tones to the performance when he breaks out into his harmonica solos. One of the highlights of the show is their a cappella rendition of early rock n' roll classics such as "It's Alright", "Little Bitty Pretty One" and "Sixty Minute Man".
THE SIMON & GARFUNKEL STORY | CAPITOL THEATRE | OCTOBER 24
Now seen by over a 1/4 million people across the world, 'The Simon and Garfunkel Story' is a critically acclaimed concert style theatre show about two young boys from Queens, New York who went on to become the world's most successful music duo of all time. Using state of the art video projection, incredible lighting and a full live band THE SIMON & GARFUNKEL STORY  is a moving and powerful concert featuring all the hits such as 'Mrs Robinson', 'Bridge Over Troubled Water', 'Homeward Bound', 'Scarborough Fair', 'The Boxer', 'The Sound Of Silence' and many more, this is a show not to be missed!
SHAPING SOUND | OCTOBER 24
Through his Emmy Award-winning work on "So You Think You Can Dance," Travis Wall has established himself as one of America's favorite choreographers.  His artistic direction of SHAPING SOUND has already produced one spellbinding show in Dance Reimagined, which has captivated audiences all across North America. 
Now, Travis and SHAPING SOUND are back with their brand-new show, After the Curtain.  These visual musicians continue to dazzle audiences as they tell the story of a man fighting to find his creative voice after the death of his one true love.  Heart-wrenching, breathtaking and ultimately uplifting, this one dance show that audiences will remember forever.
SNAP JUDGEMENT | OCTOBER 27
SNAP JUDGEMENT is the popular storytelling show, created and hosted by Detroit native Glynn Washington. SNAP JUDGEMENT delivers a raw, intimate, musical brand of narrative — daring audiences to see the world through the eyes of another. The live show features performances by some of the nation's top storytellers -- backed by the Snap Playaz band. It's storytelling, with a beat!
Sponsored by KUER
GREGORY PORTER | NOVEMBER 6
An artist whose music is at once timeless yet utterly of its time, Gregory Porter solidifies his standing as his generation's most soulful jazz singer-songwriter with Take Me to the Alley, winner of the 2017 GRAMMY Award for Best Jazz Vocal Album, and the much-anticipated follow-up to his sensational 2013 Blue Note debut Liquid Spirit. Yet in his remarkable career, Porter has time and again demonstrated an innate ability to transcend genre and connect with audiences from all walks of life, and his new music reflects the singer's continued and mindful growth as an artist and as a person amidst the constant touring demands that have resulted from tremendous international success. Recently Porter moved his family from Brooklyn back to his hometown of Bakersfield, California, where he can be closer to his brothers and sisters. "The intensity of the road has caused a desire for me to be grounded," Porter explains.
WHITE RABBIT PROJECT – Down The Rabbit Hole | NOVEMBER 18
Mythbusters alumni Kari Byron, Tory Belleci and Grant Imahara are coming off their widely successful launch of the White Rabbit Project on Netflix.  Now the trio will hit the road using their scientific sleuth skills, as they head DOWN THE RABBIT HOLE to investigate weird and wonderful events from pop culture, science and history bringing their unique brand of spectacular popular science experimentation to a city near you.
JOHN CLEESE – MONTY PYTHON & THE HOLY GRAIL | NOVEMBER 19
Living comedy legend, John Cleese, is heading in your general direction for a live and truly unforgettable evening of conversation and audience Q&A.   Absurd and/or ridiculous questions only are requested, please.
John will tell stories of his life and career and you just may finally find out the air-speed of an unladen swallow. Before John silly walks his way on to the stage, the excitement will build as the audience will get to watch Monty Python and the Holy Grail in its entirety on the big screen.
Don't miss your chance to see the man who has achieved nothing short of comedy royalty in this thrill-of-a lifetime evening.
Coconuts NOT included in ticket price.
PLUS . . . . ALREADY ON SALE
 JJ GREY & MOFRO WITH MAGPIE SALUTE | SEPTEMBER 23
 WILD KRATTS LIVE! | SEPTEMBER 30
 JJ GREY & MOFRO WITH MAGPIE SALUTE | SEPTEMBER 23
From the days of playing greasy local juke joints to headlining major festivals, JJ Grey remains an unfettered, blissful performer, singing with a blue-collared spirit over the bone-deep grooves of his compositions. His presence before an audience is something startling and immediate, at times a funk rave-up, other times a sort of mass-absolution for the mortal weaknesses that make him and his audience human. When you see JJ Grey and his band Mofro live—and you truly, absolutely must—the man is fearless.
The Magpie Salute is an exciting new band that features musicians who have played together for decades throughout various projects and share a musical bond. The band brings Rich Robinson, the guitarist and co-founding member of The Black Crowes, together with two key members of Crowes fame - guitarist Marc Ford and bassist Sven Pipien - alongside drummer Joe Magistro and guitarist Nico Bereciartua. The Magpie Salute also boasts a fine cast of vocalists, including lead singer John Hogg (Hookah Brown, Moke), former Crowes singer Charity White and background singers, Adrien Reju and Katrine Ottosen.
WILD KRATTS LIVE! | SEPTEMBER 30
Animated Kratt Brothers, Martin and Chris, "come to real life" in a classically Wild Kratts story. "Off To the Creature Rescue!" the Emmy nominated Kratt Brothers activate some fan favorite Creature Power Suits to confront a comic villain. Through hilarious pratfalls and amazing animal 'wow facts' the Wild Kratts team rescues their favorite invention from Zach's clutches so the animals of the creature world are safe once again.
WILD KRATTS LIVE! is created for the stage by the imaginative minds of Martin Kratt and Chris Kratt from Zooboomafoo, Kratt's Creatures and Be the Creature. The Kratt Brothers' national tours draw tens of thousands of creature-crazy kids and their families and the not-for-profit Kratt Brothers Creature Hero Society, together with kids, has successfully protected critical wildlife habitats through the creation of nature reserves.
Fans can visit www.live-at-the-eccles.com and join the email list to get priority access to tickets starting Tuesday, June 6th at 10am.   
Tickets for all shows will be on sale to the public Friday, June 9th at 10am www.live-at-the-eccles.com, by phone (801-355-ARTS) and at the Eccles Theater box office (131 South Main Street, M-F 10a-6p, Sat 10a-2p).
The George S. and Dolores Doré Eccles Theater is Salt Lake's newest performing arts center and is a landmark building in the heart of the City.  The state-of-the-art theater features the 2,400-seat Delta Performance Hall, the intimate 140-seat Regent Street Theater, the outdoor McCarthey Plaza, and event and rehearsal spaces.  Designed by world-renowned architect Cesar Pelli, the Eccles Theater is co-owned by Salt Lake City and Salt Lake County and is operated by the Salt Lake County Center for the Arts.  
Chris Mautz and Darin Piccoli are the principals of First Tracks Entertainment.  Mautz books the popular Red Butte Garden Summer Concert Series and a similar series at the Frederik Meijer Gardens & Sculpture Park in Grand Rapids, Michigan.  Piccoli has worked with Utah Pride, The Canyons, Utah Arts Festival and past Snowbird festivals as well as the Cool Air Concert Series.  They also own and operate The State Room in Salt Lake City and are co-owners of O.P. Rockwell in Park City.  They have a combined 30+ years in the industry and a stellar track record of creating dynamic experiences featuring many genres and a blend of established and up and coming artists.
MagicSpace Entertainment has been presenting and producing Broadway shows, tours and special events across the US, Canada and the United Kingdom for over 30 years.   They operate Broadway series in Salt Lake City, Detroit, Fresno, Albuquerque and Boise; produce the Mythbusters – Behind the Myths Tour, A Donny & Marie Christmas, The Illusionists, Alton Brown, Rain-A Tribute to the Beatles, Circus 1903, The Magic of David Copperfield and the highly successful Mannheim Steamroller Christmas tours.
Salt Lake County's Center for the Arts serves the local citizens in operating both historical and brand-new buildings that bring top-tier arts and culture to Salt Lake County and the surrounding communities. The Salt Lake County Center for the Arts supports the vibrant arts and culture community through World Class performing arts venues, a state-of-the-art ticketing system, a robust public arts program, and the Cultural Facilities Support Program.
Press Contacts:
Bruce Granath                                                                    Mitzi Van Arsdell
MagicSpace Entertainment                                                MagicSpace Entertainment
801-703-2052                                                                     801-703-2055