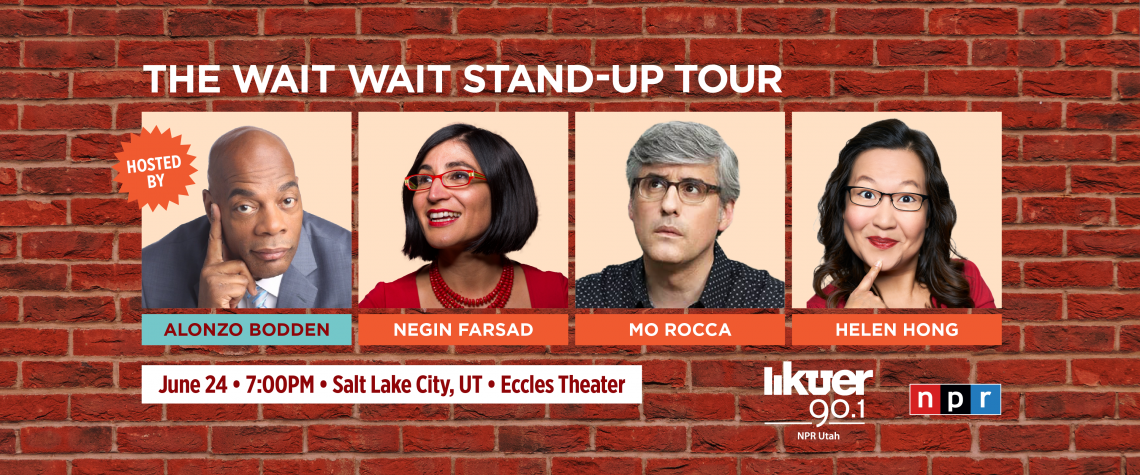 Wait Wait Stand Up
Live at the Eccles presents Wait Wait Stand Up Tour on June 24, 2022 at the Eccles Theater on Main Street in downtown Salt Lake City. ArtTix is the official source for tickets for Live at the Eccles events. Proof of vaccination or negative test is required to enter this event. If providing a negative test, it must be taken within 72-hours of the show date. MORE INFO HERE
It's the Wait Wait Stand-Up Tour — a night of stand-up-comedy featuring some of Wait Wait…Don't Tell Me's funniest panelists.
Wait Wait's panelists are talented bunch — some of the most hilarious and insightful people in the country. You've heard them answering questions on Wait Wait — subject to FCC limitations. Here's a chance to enjoy a full evening of their brilliant stand-up comedy.
Your host is veteran stand-up and Wait, Wait regular, Alonzo Bodden. Joining him in Salt Lake City are Mo Rocca, Helen Hong, and Negin Farsad! There never seems to be enough time on the weekly radio show to really get to know our incredibly talented and funny panelists. So, we're taking them on tour. See you soon!