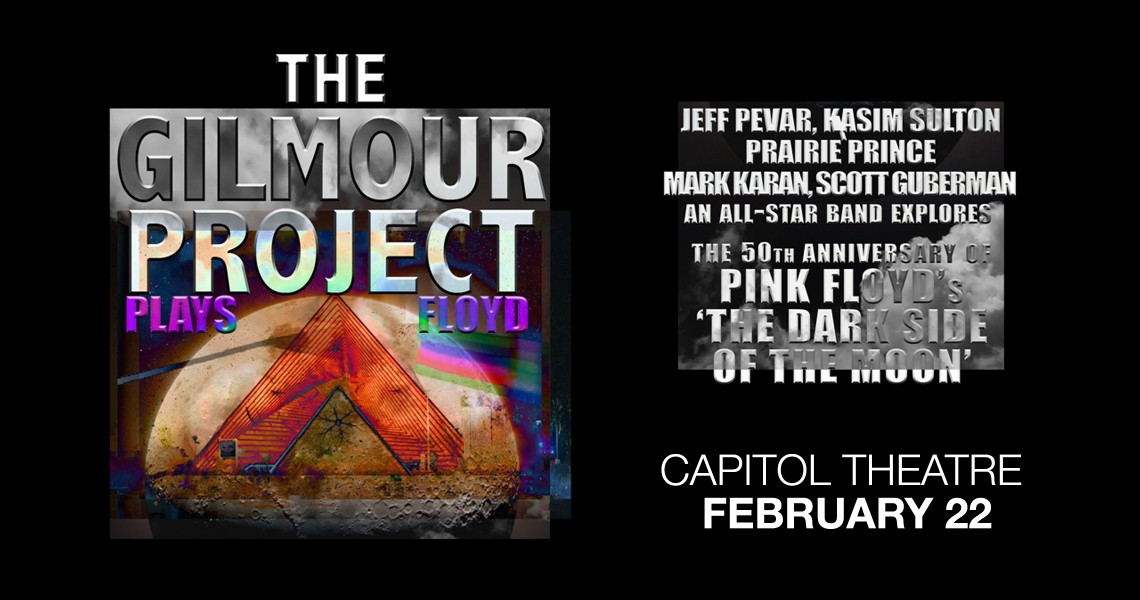 The Gilmour Project
Explores Dark Side Of The Moon
Live at the Eccles Presents The Gilmour Project on February 22, 2023 at the Capitol Theatre on in downtown Salt Lake City. ArtTix is the official source for tickets for Live at the Eccles events.
In the world of tribute bands, a new group All-Star musicians is appearing. But their story is complex and does not end in a simple tribute to David Gilmour and Pink Floyd.
Who are the musicians? On guitar Jeff Pevar, a name already known alongside Crosby, Stills & Nash, Joe Cocker, and Phil Collins. Kasim Sulton follows on bass, who instead shared the stages with Patti Smith and Blue Öyster Cult, while drummer Praire Prince juggled alongside Talikng Heads frontman David Byrne, Brian Eno and George Harrison. No less important are keyboardist Scott Guberman and guitarist Mark Karan, rock collaborators with Phil Lesh, former bassist of the Grateful Dead. In short, there are many signatures at stake, with distinctive collaborations that embellish our curriculum of ours. But behind a newly born formation, there is a manifesto, a project that seeks its way on the rock scene. Or he already knows it clearly.
The Gilmour Project, in fact, are the direct descendants of the Blue Floyd, born in the abodes of the 2000s. And their spirit moves from a phrase of the guitarist of the group, Allen Woody: "The material of Pink Floyd is timeless". For this reason, if THE DARK SIDE OF THE MOON (1973) remained on the Billboard 200 chart for 917 weeks, its legacy will live on forever. And this is demonstrated by the fact that again in 2020, it was at the top of vinyl sales. However, no one can make music like Pink Floyd on Pink Floyd songs. This is how the Blue Floyd project, from which the Gilmour Project took inspiration, is to deconstruct the classic Pink Floyd compositions in their elementary forms.
The reworked songs sound extremely familiar to the ear, but appear in a new guise, and it feels like hearing them for the first time. But to really understand what we are talking about, you have to attend the Gilmour Project performances. This explains the hungry wait to discover how tradition and avant-garde, inspiration and improvisation can come together in an innovative and stimulating experience. While waiting to hear them, we leave you this idea released by the band as stylistic anticipation:
We are musicians linked by a background that is both prog and improvisational: We want to take these songs out of their guise while respecting the beloved hocks and musical phrasing.