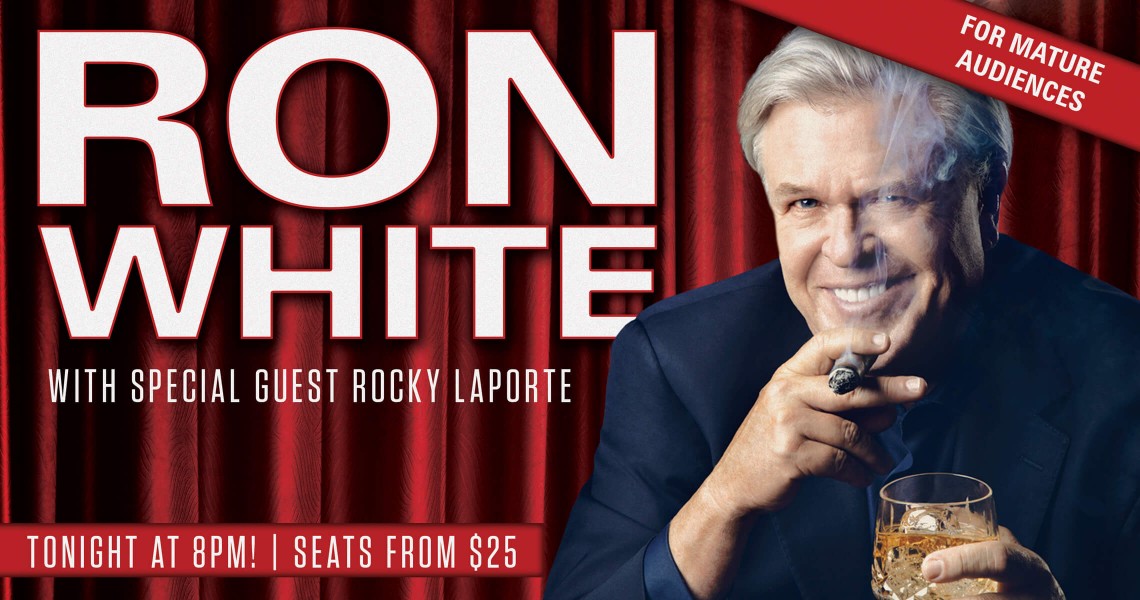 Ron White
Live at the Eccles presents, Ron White with special guest Rocky LaPorte Saturday, June 23, 2018 at the Eccles Theater on Main Street in downtown Salt Lake City. ArtTix is the official source for tickets for Live at the Eccles events.
Please note: Ron White is for MATURE AUDIENCES.
VIP PACKAGE SALES ARE NOW CLOSED
"200 Proof" VIP Packages:

Premium Seat Ticket (typically in First 5 Rows)
Q & A session with Ron White
A photo with Ron White
VIP access pass personally signed by Ron White
Bonus DVD: Ron White's Comedy Salute to the Troops & autographed note
Exclusive Merchandise Item

"100 Proof" VIP Packages

Premium seat ticket
Bonus DVD: Ron White's Comedy Salute to the Troops & autographed note
Exclusive Merchandise Item
Comedian Ron "Tater Salad" White first rose to fame as the cigar-smoking, scotch-drinking funnyman from the Blue Collar Comedy Tour phenomenon, but now as a chart-topping Grammy-nominated comedian and a feature film actor, Ron White has established himself as a star in his own right. White has always been a classic storyteller. His stories relay tales from his real life, ranging from growing up in a small town in Texas to sharing stories of his daily life to becoming one of the most successful comedians in America. All 4 of his comedy albums charted #1 on the Billboard Comedy Charts. He has sold over 14 million albums (solo and with the Blue Collar Comedy Tour), been nominated for two Grammys, and over the past 9 years (since 2004) been one of the top three grossing stand-up comedians on tour in America.
About Rock Laporte
Rocky LaPorte's appeal comes from his everyman, streetwise style of comedy. Delivering laughs in his trademark Brooklyn accent, he has become one of the most sought after comedians in the country, and he just recently appeared on on the season 8 of NBC's Last Comic Standing! Rocky received 5th place out of 10 contestants. A former Chicago truck driver and dock worker, Rocky has accumulated a slew of performances throughout his career, including being a featured comic on Showtime's The Godfathers of Comedy, a special starring five of America's most hilarious Italian-American comics. On the big screen, he has been seen in two Tim Allen movies – Crazy on the Outside and The Shaggy Dog.