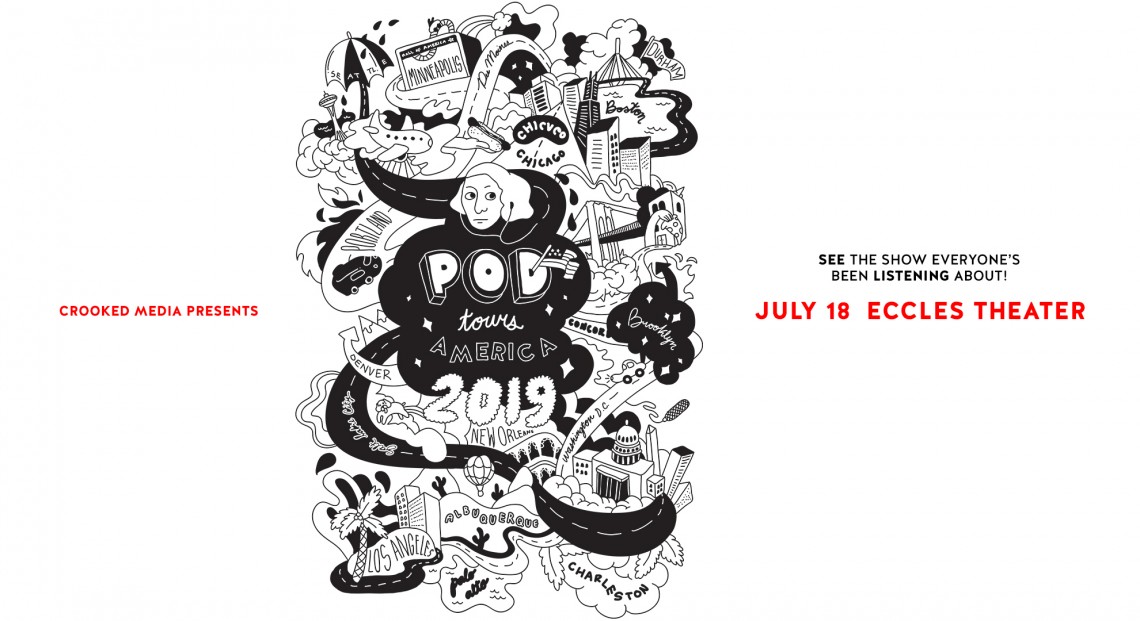 Pod Tours America
Live at the Eccles presents Pod Save America Thursday, July 18, 2019 at the Eccles Theater on Main Street in downtown Salt Lake City. ArtTix is the official source for tickets for Live at the Eccles events.
Pod Save America is hitting the road again to have live, no-nonsense conversations about politics, the press, and the nightmare that is the Trump presidency. The tour is called Pod Tours America because they think that's clever.
Pod Save America, co-hosted by Jon Favreau, Jon Lovett, Dan Pfeiffer and Tommy Vietor has been downloaded more than 370M times, and was dubbed "the voice in blue America's head" by New York Times Magazine.
Previous Pod Save America guests include: President Barack Obama, Senator Hillary Clinton, late-night hosts Jimmy Kimmel and Seth Meyers, grassroots activists, leading journalists, singer John Legend, Golden Warriors Coach Steve Kerr, Democratic Leaders Chuck Schumer and Nancy Pelosi, Sen. Elizabeth Warren, Sen. Cory Booker, and many more. Leading up to the 2018 midterm elections, the podcast hosted four live Pod Save America specials on HBO.
Favreau, Lovett, Pfeiffer and Vietor all served in key roles in the Obama White House. They have expertise in political campaigns (both winning and losing), political strategy, speechwriting and foreign policy. They are blunt about their disgust with the Trump administration, but are equally hard on the Democratic Party when it screws up. You'll laugh. You might cry. And you'll leave motivated to fight for our democracy.
Tommy Vietor is a cofounder of Crooked Media, cohost of Pod Save America, and the host of the foreign-policy focused Pod Save the World. In a past life, he worked for President Obama for nine years, including a stint as White House National Security Spokesman. Originally from outside Boston, Vietor now lives in Los Angeles with his wife Hanna and their dog Lucca. He tweets too much.
Jon Favreau served as Barack Obama's head speechwriter from 2005-2013, a role that was far more senior and influential than Jon Lovett's. Since leaving the White House, Favreau has written and spoken about politics and speechwriting to audiences throughout the world. In 2017, he co-founded Crooked Media, where he's a co-host of Pod Save America and host of The Wilderness. Jon grew up outside of Boston, graduated from the College of the Holy Cross, and now lives in Los Angeles with his wife Emily and their dog Leo.
Jon Lovett is a former presidential speechwriter, as well as a TV writer, podcast host, and straight shooter WIDELY respected on both sides. In 2017, he founded Crooked Media with Jon Favreau and Tommy Vietor, to build a progressive media network with shows, analysis, and sweet, sweet content that informs, entertains, and inspires action. There, he co-hosts "Pod Save America" and hosts "Lovett or Leave It," two of the most popular political podcasts in the country. Before Crooked, he served as a presidential speechwriter in the Obama White House, co-created a comedy on NBC called "1600 Penn" (which was cancelled after one perfect season), and wrote speeches for Hillary Clinton. Jon was also once named "Washington's funniest celebrity" before he left the nation's capital forever.