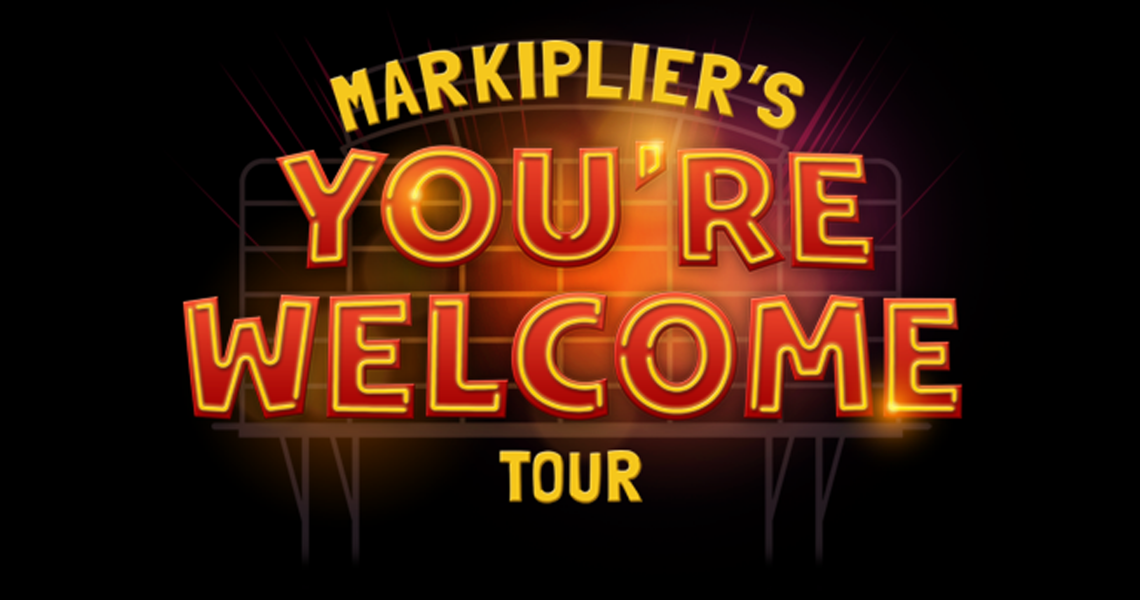 MARKIPLIER'S YOU'RE WELCOME TOUR
Live at the Eccles presents MARKIPLIER, Saturday, January 6th at the Eccles Theater in downtown Salt Lake City. ArtTix is the official source for tickets for Live at the Eccles events.
Important Information Regarding The VIP Experience
Please Read Everything Carefully
When should VIP ticket holders arrive at the venue?
VIP ticket holders should arrive at the venue by 5:30PM sharp. You'll check in at the VIP table with your show tickets to receive an autographed VIP laminate. The laminate is your general admission ticket into the VIP experience. Your physical tickets are your reserved seats for the main performance.
NOTE- In order to obtain a VIP laminate you must have your VIP priced tickets with you or provide Photo ID matching the name on the order (this email is not proof of VIP purchase).
When will the private show start?
Markiplier will take the stage at approximately 6:15PM. Theater doors will open at 6PM.
Please allow plenty of time to arrive for your VIP experience.
All Bags will be checked before entering the building. Oversized bags may not be permitted.
Any VIP ticket holders arriving after 6:15PM may forfeit their right to the exclusive VIP performance.
When do VIP ticket holders get to purchase merchandise?
The tour merchandise will be available exclusively to VIP ticket holders beginning at 5:30PM and again immediately following the VIP performance.
What time does the Main performance start?
8:00PM
Will Markiplier be taking pictures/signing autographs during the VIP Experience?
No, Markiplier is not scheduled to do any photos or autograph sessions, but all VIP
Laminates will be hand-signed by him.
FOR ADDITIONAL INFORMATION, PLEASE CONTACT ARTTIX @ 801-355-2787
Please have your order or customer number available.
Photo policy for Markiplier:
Cell phone pictures (no flash) are permitted. Cell phone video recording is not permitted.
Cameras, iPads, flash photography, audio and video recordings are strictly prohibited.
One of YouTube's biggest stars is hitting the road for the first time ever! Comedic vlogger Markiplier has assembled the ultimate cast of characters to guarantee audiences a never-before-seen adventure, live on stage. Markiplier, LordMinion777, Muyskerm, Tyler Scheid and CrankGameplays mix it up together, but the audience is the centerpiece of this spectacle, driving the entire narrative of the show using a combination of "choose your own adventure," improv games, and audience challenges. At Markplier's You're Welcome Tour, expect hilarity, absurdity, fan-favorite sketches, and the ultimate night out!
MARKIPLIER BIO
Mark Edward Fischbach, known by his online pseudonym Markiplier, is an American YouTube personality with over 17 million subscribers and 6 billion total video views. His impressive following places him within the Top 25 of all channels on YouTube in terms of subscribers and the Top 50 in terms of views. Markiplier specializes in Let's Play gameplay commentary videos, commonly of survival horror and action video games. Beyond gaming content, Mark's videos also include animation, sketch comedy, and vlogs that collectively rake in more than 200 million views every month. Most recently he created a choose your own adventure series called A DATE WITH MARKIPLIER, which he released on his YouTube. The series has been viewed over 6 million times in under two weeks, and contains 24 different videos with 10 different possible endings. In 2015, he was rated sixth in a list from Variety of the twenty most influential celebrities among teenagers in the United States.