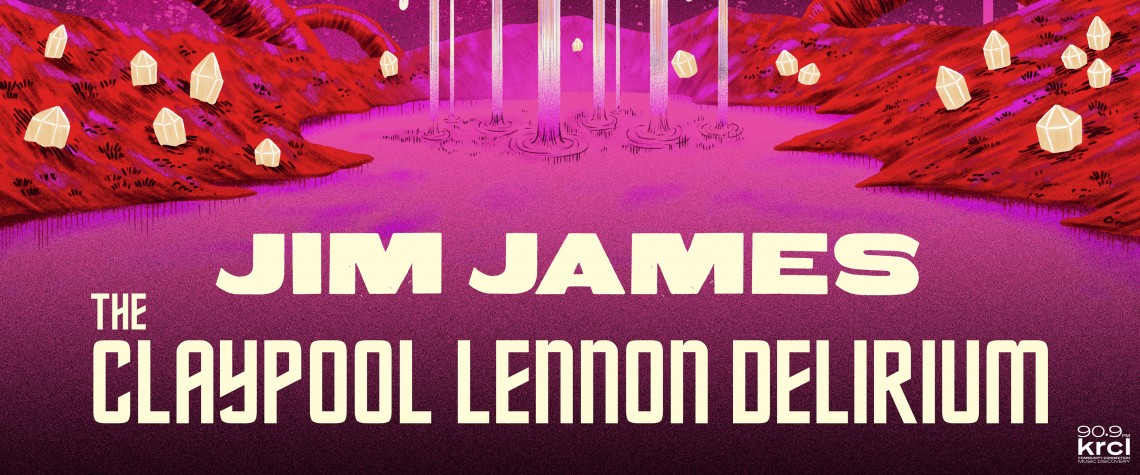 Jim James + The Claypool Lennon Delirium
Summer Tour 2019
CONCERT UPDATE
Uni unfortunately couldn't make the show so Claypool Lennon Delirium will be hitting the stage around 8pm with Jim James to follow! Doors to theater are at 7pm - get your cold beverages and bring em into the show.
Live at the Eccles and KRCL presents Jim James + The Claypool Lennon Delirium Friday, June 21, 2019 at the Eccles Theater on Main Street in downtown Salt Lake City. ArtTix is the official source for tickets for Live at the Eccles events.
The two acts will join forces for nine dates across the United States and Canada - beginning June 21 at Salt Lake City's Eccles Theater and then continuing into early July.
"For over 150 years, the firm of Claypool and Lennon has been providing clients with only the finest in rock and roll delirium and stark raving madness. This summer, I am excited and honored to say that we will be teaming up to offer a brand new twist on one of the most time tested and proven methods for inducing beautifully swirling and whirling delightfully delicious delirium: the healing power of rock and roll!" said Jim James.

"Tour pairing is often a challenge in my world but I think we have a good package with The Delirium and Jim James. Jim's music, from my perspective, is palatable to the masses yet has just enough eclecticism to keep an oddball like me intrigued. I look forward to shambling around the country with him," said Les Claypool.

In partnership with RPM, $1 from every ticket purchased for the Jim James + Claypool Lennon Delirium Summer 2019 Tour will benefit My Morning Jacket's Waterfall Project, this time benefitting the Young Authors Greenhouse, a nonprofit organization in Louisville, KY that inspires students ages 6-8 from diverse communities to grow their imaginations through writing.
Jim James: Whether it's collaborating with his band mates, recording guest vocals, or hand-picking opening acts, My Morning Jacket's Jim James has always radiated a spirit of camaraderie with his fellow musician.
The Claypool Lennon Delirium: Two worlds have collided, and what glorious and odd worlds they are. After a successful summer tour, pairing Primus with Ghost of a Saber Tooth Tiger, the two bandleaders, Les Claypool and Sean Lennon, have decided to combine their abstract talents into a project called The Claypool Lennon Delirium. Their efforts thus far have spawned the upcoming, full-length release called "Monolith of Phobos."