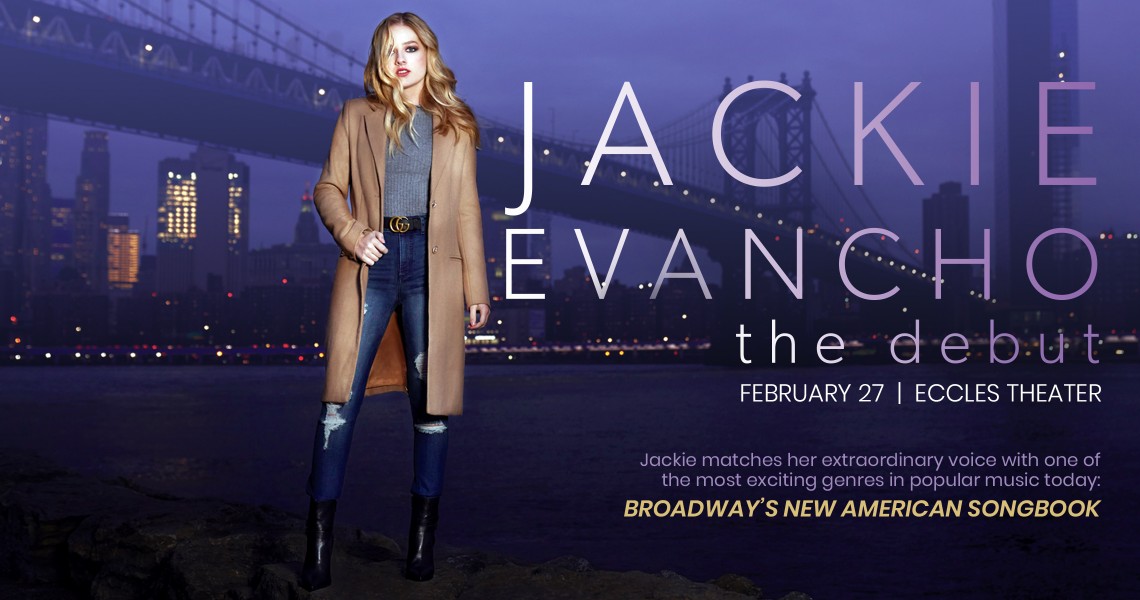 Jackie Evancho
Live at the Eccles Presents Jackie Evancho Thursday, February 27th, 2020 at the Eccles Theater on Main Street in downtown Salt Lake City. ArtTix is the official source for tickets for Live at the Eccles Events.
A worldwide sensation when she was only ten years old, Jackie Evancho has moved past the exuberant promise of a child prodigy vocalist, becoming a mature young adult with a clear direction as to where she, as a creative artist, is taking her career as a singer. A career that began with a little girl's fascination with the film soundtrack of The Phantom of the Opera and has become an evolving and enduring musical phenomenon.
Since she first dazzled American television audiences at the age of 10 – gaining global recognition with her stunning debut on NBC's America's Got Talent – Jackie Evancho has released a string of platinum and gold albums, with sales of over 3 million in the US. Along the way, she has also made history – the youngest solo platinum artist … the youngest Top 5 debut artist ever in the U.K. … the youngest person to give solo concert at Lincoln Center … the highest-ranking debut artist of 2010. All seven of Jackie's albums have hit No. 1 on the Billboard Classical chart. The magnitude of her success led Billboard twice (in 2010 and 2012) to include Jackie on its list of "music movers-and-shakers under the age of 21."
In 2019 the world saw the emergence of a grown up Jackie Evancho. Starting with her much anticipated return to AGT-The Champions, where she stunned the audience with her rendition of Barbra Streisand's "Somewhere." In April of 2019, Jackie turned 19 and in the same week released her latest album, The Debut. In The Debut, Jackie matches her extraordinary voice with one of the most exciting re-emerging genres in popular music today: Broadway's New American Songbook. At 19, Jackie is in a unique position to bring a young woman's perspective to this stunning repertoire and to become one of the great voices of contemporary musical theatre and its generation. Jackie Evancho has blossomed into one of the greatest vocal talents in the world today.