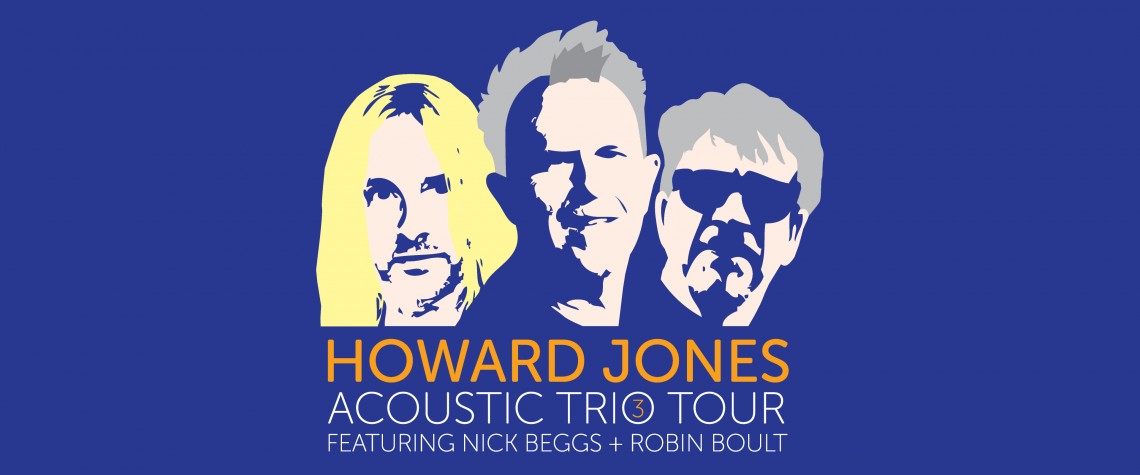 Howard Jones Trio
Live at the Eccles presents Howard Jones Trio Thursday, March 21, 2019 at the Eccles Theater on Main Street in downtown Salt Lake City. ArtTix is the official source for tickets for Live at the Eccles events.
Howard Jones Acoustic Trio is an intimate stripped-down trip through Howard's 30-year music career. Featuring Howard on electric piano, Robin Boult (Roger Daltry, Dave Stewart, Fish) on acoustic guitar and Nick Beggs (Kajagoogoo, Belinda Carlisle, John Paul Jones) on chapman stick, these shows deliver a fresh take on Howard's best-known hits and more.
Electronic music pioneer Howard Jones has been a constant presence on the international touring scene for the past three decades, playing live in a number of different configurations including intimate solo shows and dates with his full high-tech band set-up. His most recent project is ENGAGE, an entirely fan-funded visually-stunning multi-media project. It is Howard Jones' most ambitious work to date, incorporating specially-commissioned visuals with music and an interactive live show. ENGAGE is inspired by such diverse musical genres as electronica, contemporary classical and pop, fusing this audio mélange with other visual and literary arts such as ballet, modern dance and philosophy. ENGAGE was performed in London, Los Angeles and New York and is available now as a DVD/CD package. Howard is currently in the studio putting finishing touches on a new album that will be due out in Spring, 2019.
Howard Jones first burst upon the contemporary music scene in 1983, with his very English songwriting and pioneering synthesizers. His first two albums HUMAN'S LIB and DREAM INTO ACTION were worldwide hits. HUMAN'S LIB reached #1 in 1984 in the UK and featured the hits "New Song," and "What Is Love?" In 1985, Jones released the follow-up, DREAM INTO ACTION, which quickly became a Top Ten Platinum album in the United States and featured the smashes: "Things Can Only Get Better," "Life In One Day," "No One Is To Blame," and "Like To Get To Know You Well." Howard Jones has sold over 8 million albums worldwide and continues to make new music and tour the world. Jones recently performed on NBC's top-rated morning and nighttime shows respectively, Today and The Tonight Show Starring Jimmy Fallon