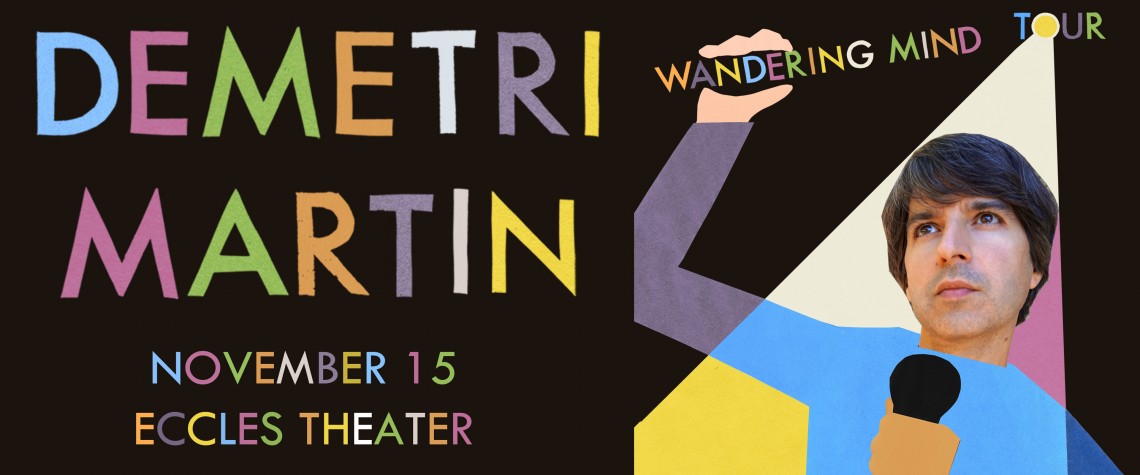 Demetri Martin
Wandering Mind Tour - EVENT CANCELLED
Demetri Martin and Live at the Eccles announced September 23rd that DEMETRI MARTIN: WANDERING MIND TOUR will not play at the Eccles Theater on November 15th.
TICKET REFUND INFORMATION
All prepurchased tickets through ArtTix will be refunded to the original purchaser. Please allow 2-3 weeks for refunds. If you have any questions, please contact the ArtTix ticket office during normal business hours at 801-355-2787 or by email at [email protected].
An important message from Demetri Martin –
Hi. I'm disappointed to tell you that I have to cancel my fall tour. Over the course of this past year, I have become much more run-down than usual. What I thought was exhaustion has turned out to be something more serious. My doctors were able to identify the underlying cause a few days ago. Thankfully, it's not life-threatening, but it has left me severely anemic and not well enough to travel. I am undergoing treatment, and I'm grateful that I'll be able to make a full recovery. I'm really sorry to disappoint any of you. It's been frustrating and difficult to go through this, but I'm looking forward to getting back on the road in 2020 to perform for the fans I appreciate so much.
Demetri.