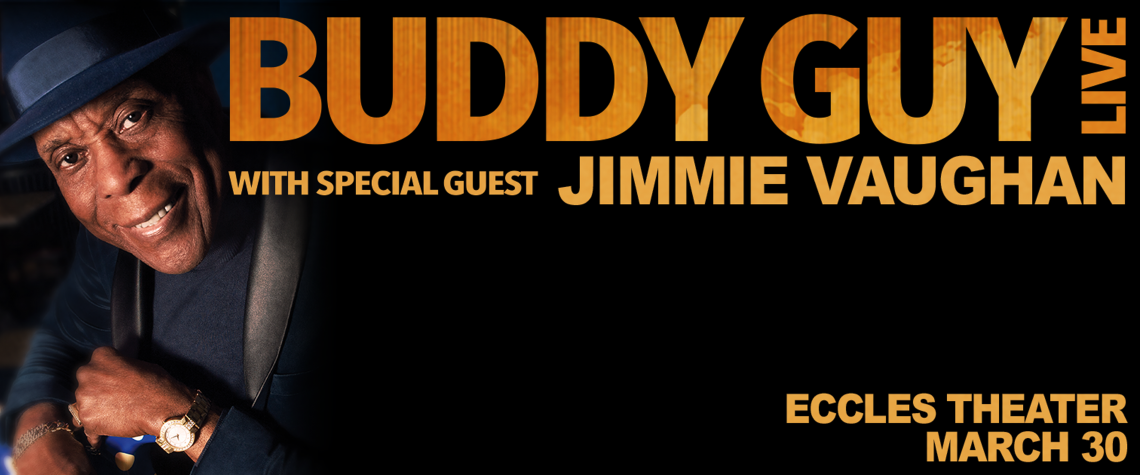 Buddy Guy with special guest Jimmie Vaughan
Live at the Eccles presents Buddy Guy with Special Guest John Mayall Monday, March 26, 2018 at the Eccles Theater in downtown Salt Lake City. ArtTix is the official source for tickets for Live at the Eccles events.
Buddy Guy is a Rock and Roll Hall of Fame inductee, a major influence on rock titans like Jimi Hendrix, Eric Clapton, and Stevie Ray Vaughan, a pioneer of Chicago's fabled West Side sound, and a living link to that city's halcyon days of electric blues. He has received 7 Grammy Awards, 28 Blues Music Awards (the most any artist has received), the Billboard magazine Century Award for distinguished artistic achievement, and the Presidential National Medal of Arts. Additionally, Rolling Stone ranked him in the top 25 of its "100 Greatest Guitarists of All Time."
Buddy Guy is a genuine American treasure, and one of the final surviving connections to an historic era in the country's musical evolution. And still, as one glorious track on Rhythm & Blues puts it, he claims that "All That Makes Me Happy is the Blues."
About John Mayall
For over 50 years, John Mayall has served as a pioneer of blues music, rightly earning him the title, "The Godfather of British Blues". In 2013, John signed with producer Eric Corne's label, Forty Below Records, and has since been experiencing a true artistic and career renaissance.
About Quinn Sullivan
Quinn Sullivan has been a music professional for more than 75 percent of his life. He's shared the stage with many of his heroes including Buddy Guy, Carlos Santana, and Joe Bonamassa, as well as BB King, Billy Gibbons, and Los Lobos. He has performed on concert and festival dates throughout the United States, Canada , Europe, as well as Asia and South America – including at storied venues like The Hollywood Bowl, RFK Stadium and Madison Square Garden, traveled overseas performing at both the Montreux Jazz Festival and India's Mahindra Blues Festival – He's also appeared on national TV, with guest appearances on The Tonight Show with Jay Leno, Oprah, Late Night with Jimmy Fallon, Conan and twice on The Ellen DeGeneres show.