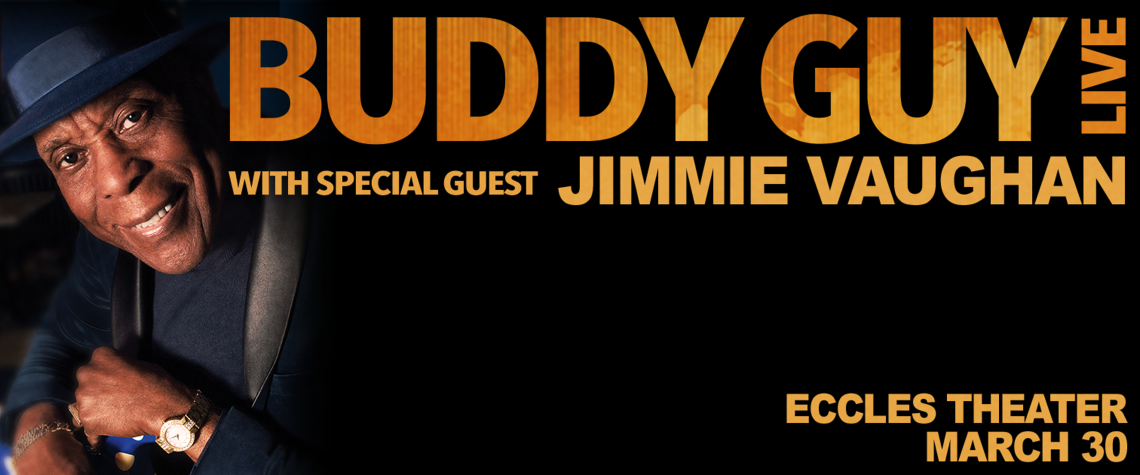 Buddy Guy with special guest Jimmie Vaughan
Live at the Eccles presents Buddy Guy with special guest Jimmie Vaughan Saturday, March 30, 2019 at the Eccles Theater in downtown Salt Lake City. ArtTix is the official source for tickets for Live at the Eccles events.
Buddy Guy
The title of Buddy Guy's latest album says it all: The Blues Is Alive and Well. The legendary blues artist's eighteenth solo LP and follow-up to 2015's Born to Play Guitar showcases his raw and unadulterated sound, its fifteen tracks a true pleasure for aficionados and genre newcomers alike. "I got children and grandchildren who didn't know who I was, but nowadays we can play outdoor concerts and see kids that are eight, nine, twelve years old coming to me and saying, 'I didn't know who you was, but I read what Eric Clapton said about you,'" Guy explains when discussing his mindset around the new record. "I'm always trying to make an album that someone accidentally plays where some kid hears it, picks up a guitar, and helps keep the blues alive."
And it only takes one listen to The Blues Is Alive and Well to realize that Guy's mission has been more than accomplished here. The record is arriving on the heels of a spate of high visibility for the 81-year-old performer: at the 2016 Grammys, he picked up a trophy for "Best Blues Album" honoring Born to Play Guitar, and that same year he hit the road for a U.S. tour opening for Jeff Beck. In addition to bringing the house down for a recent sold-out performance commemorating the closing of New York City's B.B. King's Blues Club and Grill, he recently appeared on David Letterman's Netflix talk show My Next Guest Needs No Introduction. A truly restless and energetic performer, The Blues Is Alive and Well is the latest triumph in an already-legendary career.
Jimmie Vaughan
Jimmie Vaughan is far more than just one of the greatest and most respected guitarists in the world of popular music. As Guitar Player magazine notes, "He is a virtual deity--a living legend." After all, Vaughan provides a vital link between contemporary music and its proud heritage, as well as being a longtime avatar of retro cool. Since releasing his first solo album in 1994, he has set the standard for quality modern roots music. Throughout his career, Vaughan has earned the esteem of his legendary guitar-playing heroes and superstar peers along with successive generations of young players. His musical ethos and personal style have had an impact on contemporary culture, from spearheading the current blues revival with The Fabulous Thunderbirds to his longtime, innate fashion sense of slicked-back hair and sharp vintage threads (now seen throughout the pages of contemporary fashion journals) to becoming a premier designer of classic custom cars. But for Jimmie Vaughan, none of it is part of a crusade or a career plan. It's just his natural way of living his life and pursuing the interests that have captivated Vaughan since his youth.
Now, with his third solo release and Artemis Records debut, Do You Get The Blues? Vaughan has fashioned his most compelling and appealing musical statement yet, creating a rich and variegated masterpiece of 21st Century rhythm and blues. From the first notes of the opening instrumental, "Dirty Girl," it's clear that Vaughan has created a contemporary classic. Driven by Vaughan's lyrical guitar work, the skin-tight drumming of George Rains and the verdant Hammond B-3 work of the song's writer, Bill Willis (whose long career includes work on the seminal R&B and blues sides issued by King Records as well as stints with Freddie King and Lavern Baker), the song speaks volumes without a single word, and sets a tone of distinctive and emotion-laden musical articulation that continues throughout the disc.