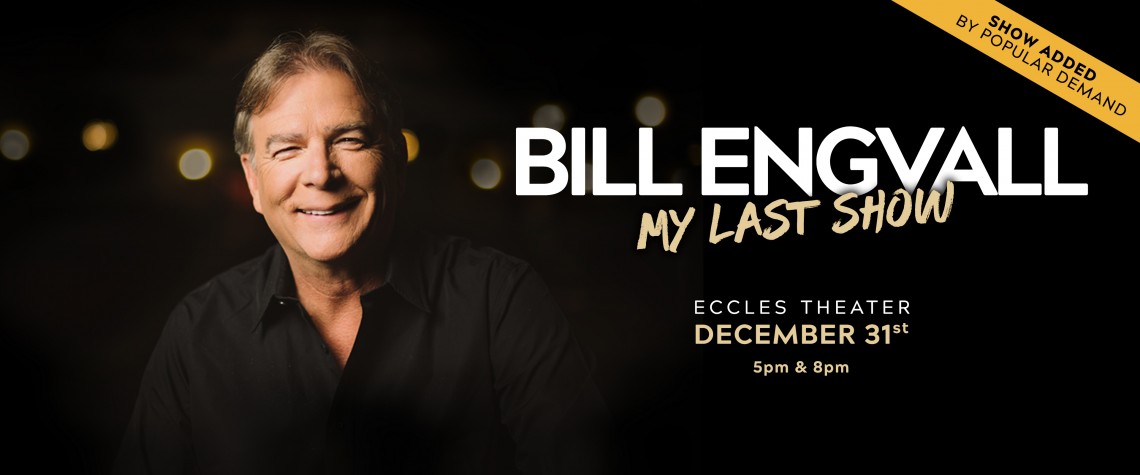 Bill Engvall
MY LAST SHOW
Live at the Eccles presents Bill Engvall: MY LAST SHOW on New Year's Eve, December 31, 2022 at the Eccles Theater on Main Street in downtown Salt Lake City. ArtTix is the official source for tickets for Live at the Eccles events.
Renowned comedian Bill Engvall is currently on his farewell stand-up comedy tour, "Here's Your Sign, It's Finally Time," after over 40 years on the road. "I'm thrilled that my very last live show in Utah will be at the beautiful Eccles Theater and on New Year's Eve! I can't wait to do this with everyone who has supported me and my career all these years. It is going to be an awesome night. What a way to close it all out!"
Engvall is a Grammy-nominated, multi-platinum selling recording artist and one of the top comedians in the country. Bill was last seen appearing regularly on the Tim Allen Fox sitcom "Last Man Standing" in the role of Reverend Paul. He most recently served as the host of "Blue Collar Auction" which premiered last September on Peacock's Circle TV, a country-themed music and lifestyle network. The series, featuring Bill as head auctioneer, engages viewers in competition as various items are sold to the highest bidder. He previously starred in and executive-produced the TBS sitcom "The Bill Engvall Show." Bill was a contestant on season 17 of ABC's "Dancing with the Stars," and as a fan favorite, he made it to the finals. Engvall was part of the enormously successful Blue Collar Comedy group with Jeff Foxworthy, Larry the Cable Guy, and Ron White. He released several award-winning comedy albums, with his first album, "Here's Your Sign," certifying platinum and holding the #1 position on the Billboard Comedy Chart for 15 straight weeks. His second album, "Dorkfish," also debuted at #1 on Billboard's Comedy Chart, as did his subsequent comedy albums. Bill's latest comedy special "Just Sell Him For Parts" is currently available on VUDU streaming service.
An accomplished film actor Bill has a co-starring role in the drama "No Running" which recently premiered at the Tribeca Film Festival. His other film credits include "Catching Faith," "Monster Party," "Wish for Christmas" and the thriller "The Neighbor."
Engvall was awarded "Casino Comedian" of the year at the 2019 Casino Entertainment Awards in Las Vegas, NV. Since 2016, Bill has hosted a weekly podcast "My 2 Cents" with PodcastOne which offers his funny, thought-provoking and unique perspective on just about everything. Bill has written several books, including his 2007 autobiography Bill Engvall – Just A Guy.